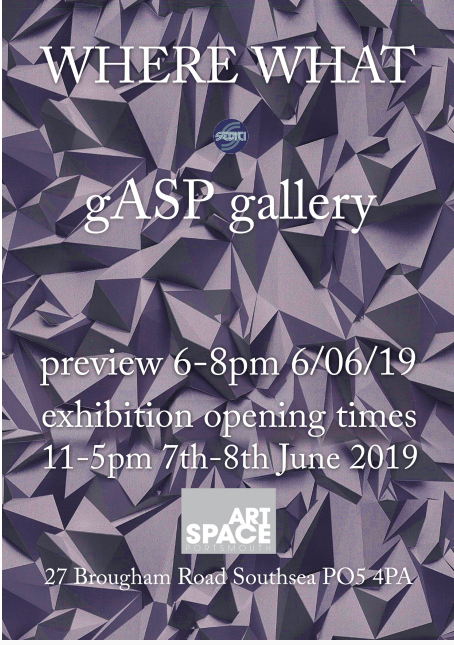 'WHERE WHAT'
Curated by Prof. Danny Rolph 
Preview: Thurs 6th June 6 – 8pm
Show Open: Friday 7th and Saturday 8th 11am – 5pm
Plus talk by Prof Danny Rolph Sat 8th June at 3.00pm

This exhibition at gASP consists of a group of artists from around the world who reside in the south of England.   They are all currently part of the Sedici post graduate programme which is now in its ninth year.The title of this exhibition poses a question and is a reversal of the title of Samuel Beckett's last play 'What, Where' from 1983. Critically, that work by Beckett was seen as difficult to interpret as his character Bem tries to remember something that is out of reach and we realise it can't be found despite asking the question? Beckett believed that people were in a continual state of flux and it is primarily this premise that 'where, what' will attempt to examine?
Participating Artists:
CHARLOTTE AMEY, HILARY BOARDLEY, CAROLINE CRAWFORD, MALCOLM CROCKER, SUE DAGNALL, NEDA DANA-HAERI, LUCIE FEIGHAN, JENNI HODGSON, ROBYN JACOBS, KARIN JOLLY, MAGGIE LEARMONTH, CHRISTIANNA MITCHELL, MARIETTE MOOR, JULIA NOBLE, SELMA OSBORNE, FIONA PATCHETT, GILLIAN RAINE, ROBIN RICHARDSON, BEV SAGE, ANN SIMBERG, SALLY SOLE, RUPS STEWART, ANDREA VARGAS, KATY VETCH, VIRGINIA WATERHOUSE