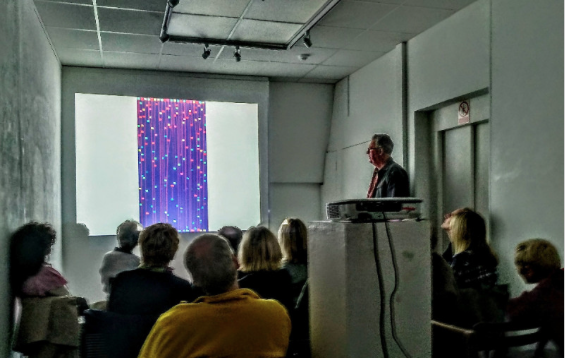 Friday 9th November 7.00 – 9.00pm
Do join us for a relaxed and enjoyable event with lots of opportunities for conversation in a gentle, candle-lit ambience in the Art Gallery at Art Space Portsmouth. You are very welcome to join us from after 6.30pm to socialise and have a drink for a 7.00pm start. It will finish around 9.00pm.
There will be three speakers each showing 20 images and talking for 20 seconds each about each image. About 7 minutes in total for each speaker, and then a chance to ask questions of each one. The speakers are Artist and ASP member Tanya Wood, Artist and ASP member Gillian Hawkins, and Artist Alison Stewart.
The title of Gillian Hawkins' talk is "The Passage of Tea Time" from her visit to Stoke on Trent searching for the sites of former potteries. She says The theme continues her examination of aspects of the domestic world; here discussing the discarded, the lost: items once an integral part of peoples' lives.
Tanya Wood says her talk is Drawing is my passion and helps me make sense of the world, it is an invitation and opportunity to invest time looking at our immediate environment and our place in it, to make more of life lived now. My drawings are an act of mindfulness.
Alison Stewart says The personal journey I have gone through reflects my understanding and comprehension, developed from my struggle with dyslexia. I remove my own communication barriers by taking the written 'word' out of source material and replacing it with fabrics and threads,
There are chances to ask questions, but it's a good chance to socialise and enjoy the evening. As one visitor said of a past '20 x 20' event "I found the evening really enjoyable, relaxed, informative and unpretentious." Admission is free.
Photo above of Artist Geoff Catlow from previous '20 x 20′ event at ASP.