Found and Lost - Gillian Hawkins
An exhibition of selected photographs of Portsmouth buildings including the Tricorn and St Agatha's Church taken by Gillian Hawkins between the 1980s and 2021, showing in the Art Space Portsmouth Gallery.
Exhibition runs from 21st October – 6th November 2021.
Opening Event - Friday 22nd October from 6 – 8pm.
The exhibition will be open:
October
Saturday 23rd & 30th - 2-4pm
Tuesday 26th & Thursday 28th - 11am-1pm
November
Tuesday 2nd & Thursday 4th - 11am-1pm
Saturday 6th - 2-4pm
All other times and dates by appointment only. Please email gillian.hawkins7@ntlworld.com
Photographs from this exhibition will be for sale.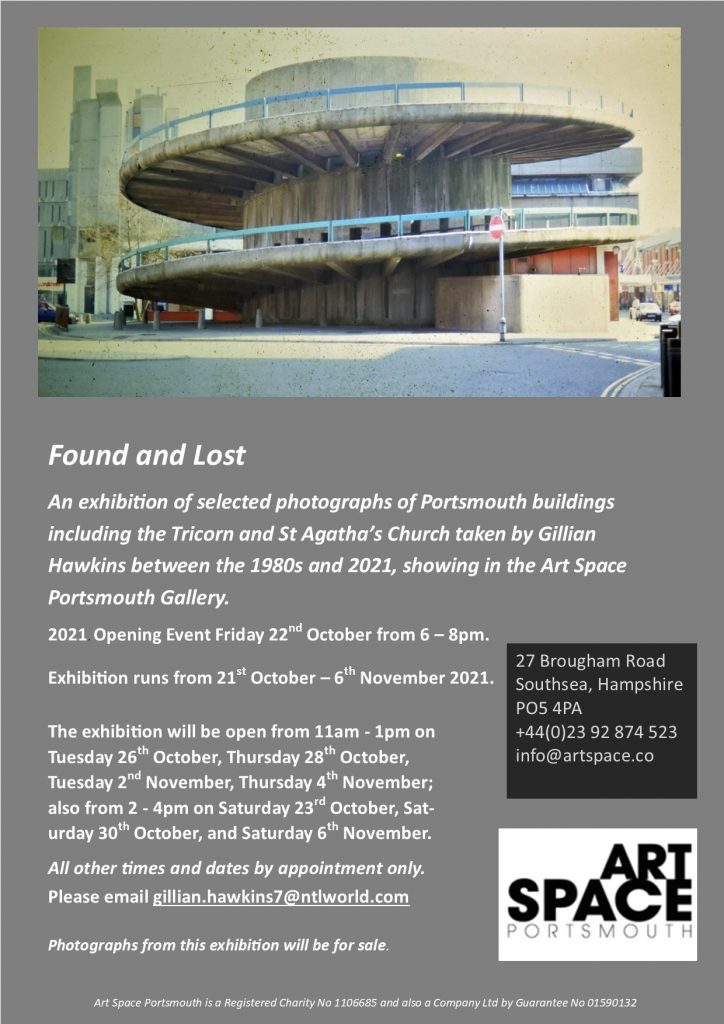 Rachel Johnston - All Rivers Run North
Saturday 30th October – Sunday 2nd January 2022
Monday – Sunday, 9am – 4pm
Quay Arts OPEN 2019 winner Rachel
Johnston presents a solo exhibition of large-scale woven pieces, objects
and photographs, that explore our relationship with place and, in
particular, the landscape and geology of the Isle of Wight.
All Rivers Run North, is
an exhibition that explores the potential for textile process as a
means of understanding the connection between making and the
environment. Rachel Johnston's work is rooted in the structures and
symbolism of textile language. She makes objects – woven
gloves and shoes – that are worn in specific environments, most often in
water. These objects become manipulated and shaped through use to
embody a lived 'moment' in which layers of memory and physical
engagement with a landscape come together. This process then informs the
construction of textural, large-scale woven pieces in a new
representation of place.
In All Rivers Run North, the environment of the Isle of
Wight becomes the focus, with pieces that reference to the island's
geology and biosphere status. The exhibition title describes a
geological peculiarity in that all the main Isle of Wight rivers run
northwards, a result of the shift that took place when the island
separated from the mainland thousands of years ago. In new work
parallels are drawn between the sequential building of a woven structure
and the formation of a landscape through time. The seismic shifts and
forces that have shaped the island's landscape will find parallels in
the twists and tensions of the yarn. The human scale of the artworks
will provoke questions about the consequences of human activity on the
island as well as the value of looking and looking again, to find new
ways of engaging with this unique place.
#allriversrunnorth
West Gallery, Quay Arts Centre, Newport, Isle of Wight PO30 5BD
https://www.quayarts.org/event/all-rivers-run-north/
Jon Adams - Opening the Aviary
Jon Adams - Kate MccGwire - Prudence Maltby - Rosa Beiroa
Chapel Arts Studios, Andover
20th October - 27th November 2021
Wednesday – Saturday 11am- 4pm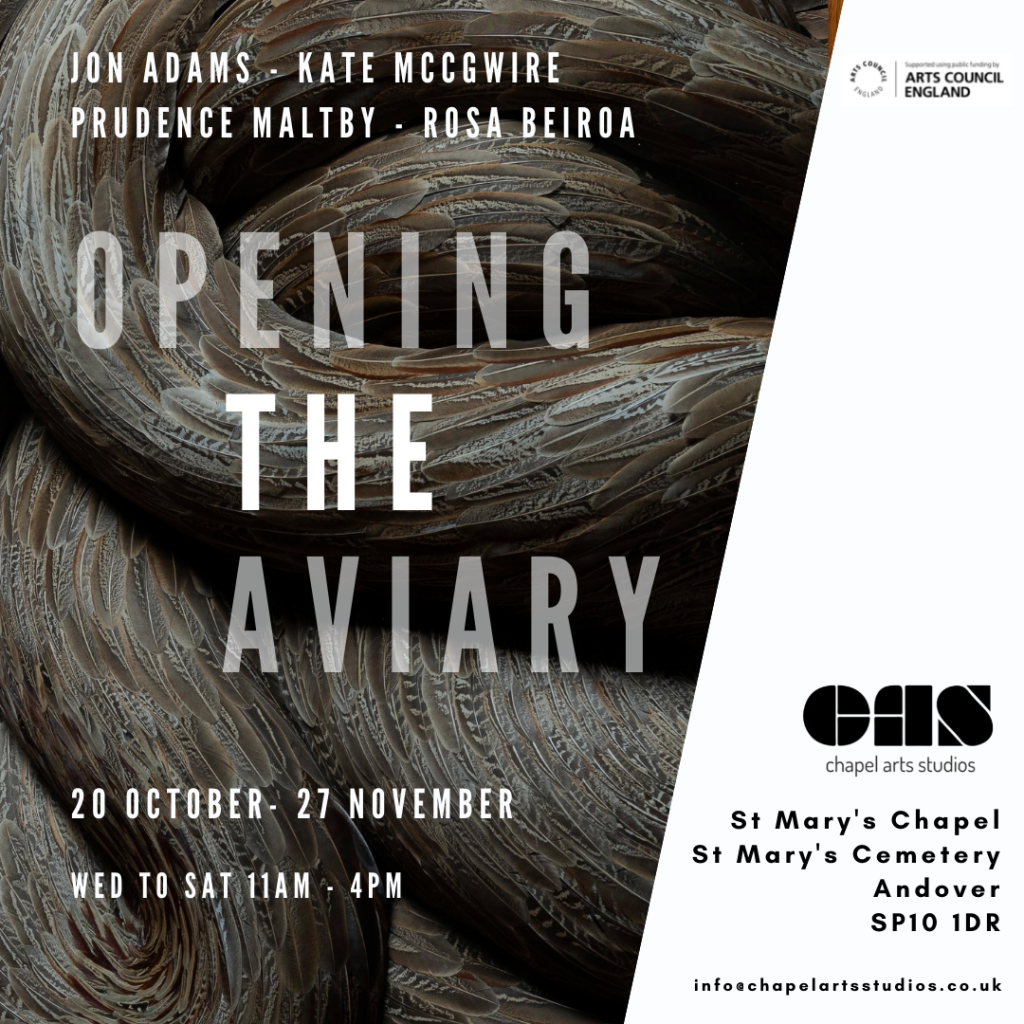 Opening the Aviary is a multimedia exhibition inspired by a set of drawings created by Jon Adams over the covid lockdown. As an artist who champions the flourishing of neuro divergent practitioners through his organisation, Flow Observatorium, Adams' own work as a neurodivergent artist, draws on an internal dialogue which finds sharp expression on the page. Into this conversation come three other artists to engage in thoughtful conversation with Adam's work. Prudence Maltby, also drawing from an internal space of memory and trauma, converging around shared experience, 'I have flocks of birds in my head' her work diverging again to express its own personal narrative, and Kate MccGwire whose sculptural contribution powerfully makes present this dialogue, manifesting that internal tension in work simultaneously seductive and repulsive, fluid yet static, dangerous yet safely encased.
A short animation by Rosa Beiroa introduces us to all of the works on show, articulating the words of William Kentridge which make tangible the creative process for all.
Email info@chapelartsstudios for more details
---
Neurodivergence in Art - A Talk by Jon Adams
Tuesday 2nd November, 5.30-7pm
Chapel Arts Studios, Andover
In person and online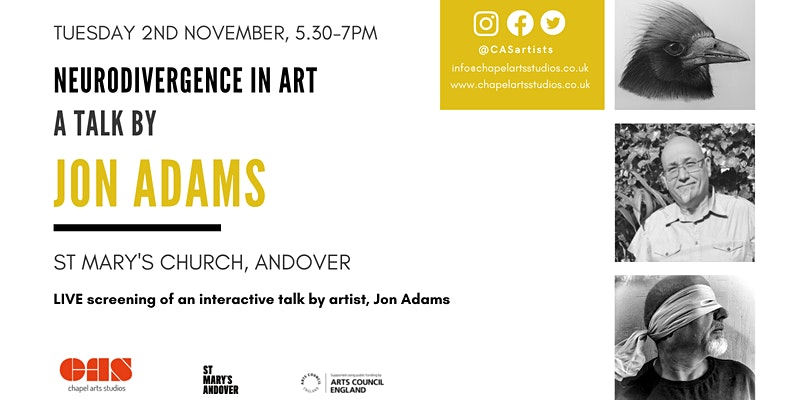 Jon Adams, artist and neurodivergent activist, talks about his experience and how we can make art more accessible to neurodivergent people.
Full details and booking https://www.eventbrite.co.uk/e/talk-with-jon-adams-artist-and-neurodivergent-activist-tickets-171828352227