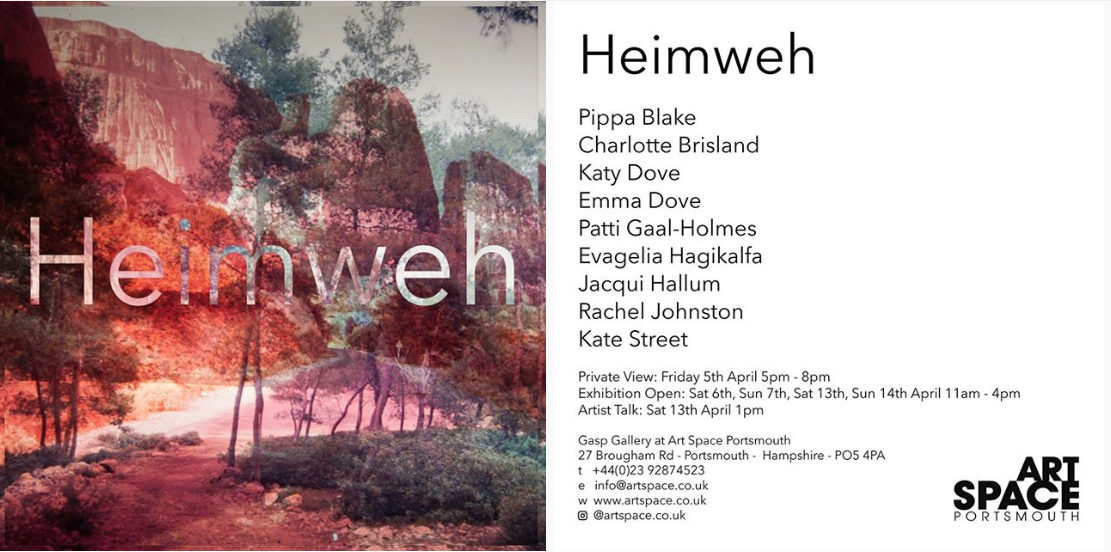 Hope you can come along to join us for the private view of Heimweh on Friday 5th April 5pm – 8pm.
The exhibition is then open: Sat 6th, Sun 7th, Sat 13th, Sun 14th April 11am – 4pm with an artist's talk Sat 13th April 1pm
Group exhibition of painting, photography, collage and film that explores the complex emotional resonance of Homesickness.
Heimweh is the German word for 'homesickness' and has been chosen to reference Freud's writings on the 'Unheimlich', literally 'unhomely', which also translates as 'the uncanny'. Each artist makes their own connection to the home and takes a departure from it. There is Heimweh, a longing for home when it is no longer readily available, an attachment to the home, or an inability to connect to the idea of home. In the 'weh' ('pain' in German) there are fragments, pushing and pulling all at once, there is an undulating extension. For some, the home is a place of comfort, everything emanating from its centre. For others, there is the traumatic loss of the home. Within this word there is the extra linguistic, both sensory and visual.
Pippa Blake @pippablake
Charlotte Brisland @charlotte.brisland
Katy Dove
Emma Dove @em_dove
Patti Gaal-Holmes @pgaalholmes
Evagelia Hagikalfa @evageliahagikalfa
Jacqui Hallum @jacqui8792
Rachel Johnston @rachel_johnston_art
Kate Street @streetkerridge
Gasp Gallery at Art Space Portsmouth
27 Brougham Rd – Portsmouth – Hampshire – PO5 4PA
t +44(0)23 92874523
e info@artspace.co.uk
w www.artspace.co.uk
i @artspaceportsmouth
@artspaceportsmouth #artspaceportsmouth #curatedproject #contemporaryart #contemporaryphotography #contemporarypainting #collage #photography #analogphotography #sculpture #movingimage #projectionart #exhibition #heimweh